How to combine Social Media Ads Data with Adobe Analytics KPIs
This article originally appeared on https://medium.com/@factivateapp/how-to-combine-social-media-ads-data-with-adobe-analytics-dd3a3645e996
Are your social media marketing efforts working?
How do you know which key performance indicators (KPIs) matter on each platform?
How do you combine your social media data with Adobe Analytics data to understand the success of your campaigns?
What was last month's ROI on your social media ads?
In this article, you'll discover which KPIs to track for Facebook or Instagram and how you can combine all of the campaign KPIs with your web engagement data in Adobe Analytics to help you understand which campaigns performed best.
# 1: Implement proper Campaign URL (also known as UTM links) tracking and management
You might be spending thousands of dollars on social media and have millions of clicks. Congratulations! Now, do you know how those millions of clicks are behaving on your website? Are they all bouncing when they go in or are they interacting with your content further? Was last week's post directly responsible for the bump in revenue you saw last Sunday?
You will never know the answer to these questions if you don't implement proper Adobe Analytics UTM tracking. This means that you must build and manage all of your social media links in a structured manner. Doing so will ensure Adobe can read your information correctly and help you segment your data in order to answer the questions mentioned above.
We won't go into detail here on how to implement proper Adobe Analytics UTM tracking but we've written a guide to help you: https://medium.com/@factivateapp/the-complete-guide-to-using-utm-parameters-in-adobe-analytics-dfce81b91938.
To summarize the article, if you want to want to know which social media campaign performed best, you must do the following:
Set up your s.campaign variable correctly
set up your classifications
Implement your UTM classification rules
Sign up for the Adobe UTM Smart Manager to maintain your link structure and taxonomy moving forward. Below is an example of an Adobe Campaign URL builder made public by the same company.
Finally, you will need to ensure that you (and your team) use the same campaign name/term/content that you used to build your links when you create your Facebook / Instagram Ad (more on how to set up some controls to ensure proper campaign tracking).
#2: Discover What's Working on Facebook
Facebook Ads provide some incredibly detailed marketing analytics. You can access most of this data by logging into Facebook Business Manager and delve into their reporting and dashboard views. These views, however, are siloed to Facebook-only (or Instagram-only) data and cannot provide a complete view of the entire customer engagement beyond Facebook alone. Consequently, the conversation of which Facebook KPIs you need to follow will depend on, not just your objectives, but whether you're considering your Facebook data through a siloed view or in context with other platforms:
Option 1: Rely on Facebook-only KPIs to optimize the campaigns (free but problematic)
Let's get something out of the way. If you're analyzing the success of your marketing strategies by ONLY looking at your Facebook data (and not comparing it to anything else), you will lose to your competitors. In fact, we don't recommend this strategy unless you're a Facebook-first company and don't even have a website or landing page you'll want to re-direct your users into. If this is the case, you'll initially want to consider your engagement numbers with your core audience. This means, at a high-level, you'll want to rely on the following Facebook KPIs and compare them to your benchmarks to judge your performance: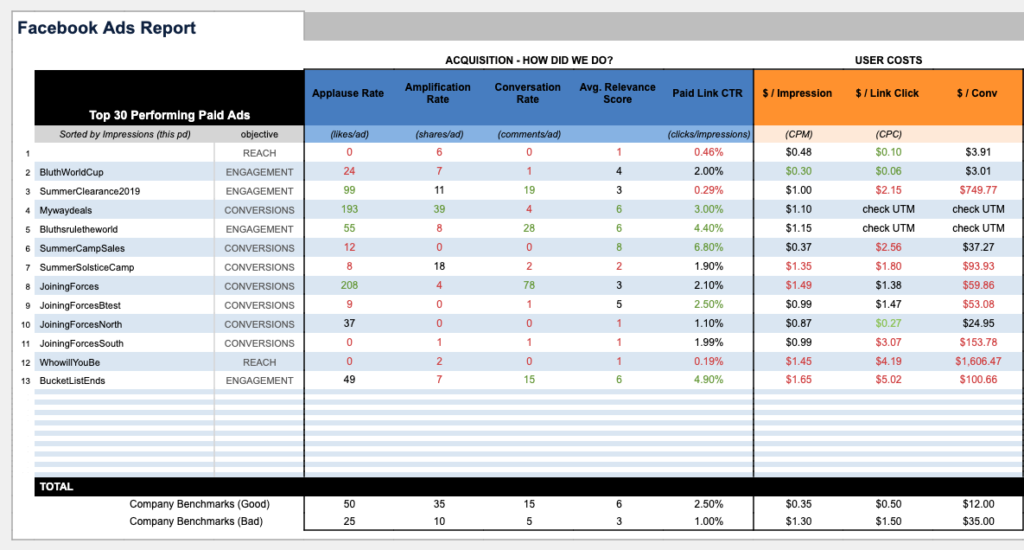 Average Likes / Ad
Average Shares / Ad
Average Comments / Ad
Avg Relevance Score / Ad
Avg Link Click CTR
Notice that we do not consider reach or impressions since these "vanity KPIs" cannot help you determine the success of your creative (and can essentially be bought). Consider the Facebook-ads report (partial view) included above. We know likes, shares, comments, ctr, and the relevance score per Ad. Can we understand whether a high like count leads to website conversions? Can we understand whether a lot of shares lead to purchases? Do we know if the Facebook-reported data is different than our real website analytics? Can we understand whether we wasted money with poorly relevant ads if we don't see what the ROI per ad really was?
If you're not a Facebook-only operation, however, there are some problems with relying on only this Facebook data. Let's take an e-commerce company as an example. Throughout the years, it's public knowledge (at length) that Facebook-only data can be skewed, is not reflective of real website interactions (ie conversions), and worst of all, (even with FB Pixel implementation) FB data won't match purchasing numbers. This is why we don't think Facebook data alone is reliable. In addition, a Facebook-only approach neglects to apply lessons learned from other campaigns in other channels. Suffice it to say, a Facebook-only point of view won't give you (or your agency) the knowledge or competitive advanced you need to win.
This is why we recommend Option 2 instead.
Option 2: Combine that Facebook data with their Analytics information (requires a tool like the UTM Smart Manager)
In order to determine the real success of the campaign, to understand if there are any data anomalies represented by Facebook vs real website KPIs, and to objectively optimize your strategies, viewing your Facebook insights in context with your website data is necessary. Contextual, in this simple scenario, signifies connecting the Facebook campaign data with your Adobe Analytics (or Google Analytics) information to gain knowledge on why a campaign worked (or didn't work). This means, that at a high-level, you'll at a minimum want to rely on the following social media, plus Adobe Analytics KPIs, and compare them to your benchmarks to judge your performance in a view like the one below:

Facebook KPIs (help answer: How did we acquire the customer? What was our cost?)
Avg Likes/ad
Avg Shares/ad
Avg Comments/ad
Relevance Score
Paid link CTR
UTM Link Clicks KPIs (helps answer: did we use the correct process to track our data?)
Adobe Analytics KPIs (help answer: How did the customer behave/interact with our brand? What was the outcome?)
Entrances
Bounce Rate
Goal Completions (can be leads, conversions, transactions, purchases)
Engagement Rate (goal completions / entrances)
Spend
Revenue
ROI
A special note on the UTM Link Clicks KPI under the CONTROLS column

In order to maintain proper marketing data integrity, your marketing operations need so support proper UTM links for your campaigns so that your Facebook traffic is appropriately tracked in Adobe. Proper UTM management includes not just building the links but ensuring that data is flowing correctly. Below is a close up of the method of control we've utilized to ensure all stakeholders are building links correctly (look at the far right column).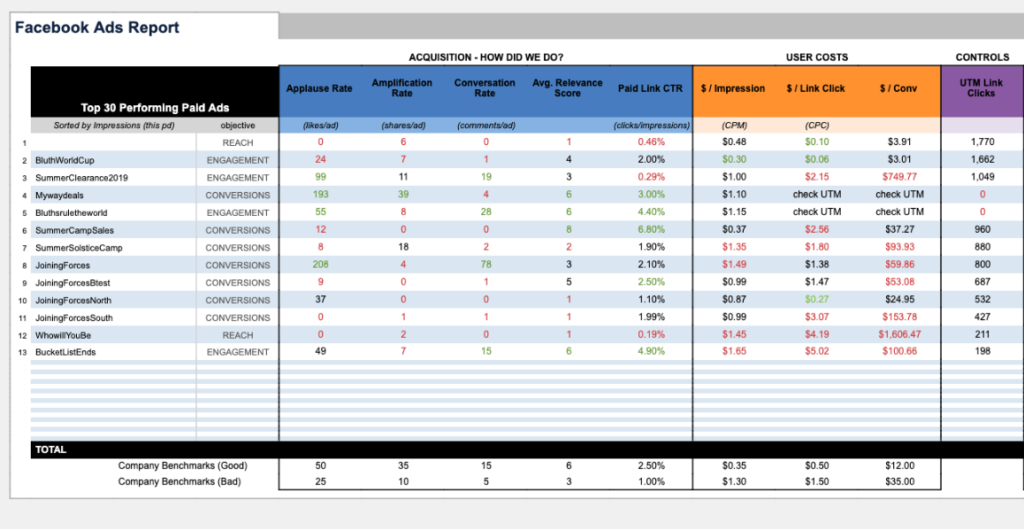 With this one column, we can determine whether a link was properly executed by the campaign manager. Simply put, if the number remains 0, yet there is a CTR reported under the Facebook data, there is a discrepancy that needs to be addressed right away. We look into this report on a daily basis because of the impact it can have on our tracking and ability to gain insights from our marketing execution.
#3: Compare your KPIs with Your Benchmarks consistently and visually
You will recognize in the screenshots of the report, that we use conditional formatting on all of our ad KPIs to help us visually understand where our ads require some of our attention (whether good or bad). In our experience, this helps ensure that we will not miss anything important. Instead, it signals to our team (or account managers) to dig deeper and understand why it's working or not working and optimize our spend accordingly. We revise these benchmarks every month as a general practice as well during our analytics team meetings.
Conclusion
Combining your Facebook KPI data with Adobe Analytics data (or Google Analytics data for you Google users) does not need to be difficult. I hope that the above example will at least help you begin to think about methods you can implement in order to build a winning marketing strategy. We highly recommend that if you're an Adobe Analytics user, you sign up for the UTM Smart Manager for Adobe Analytics. With it, you will automatically view all of these KPIs together through their dashboards and reports while simultaneously getting an award-winning solution to build and manage your Adobe Campaign URLs (or Adobe UTM links).