5 Best Adobe Analytics UTM Builder Spreadsheet Templates and Tools Reviewed (2019)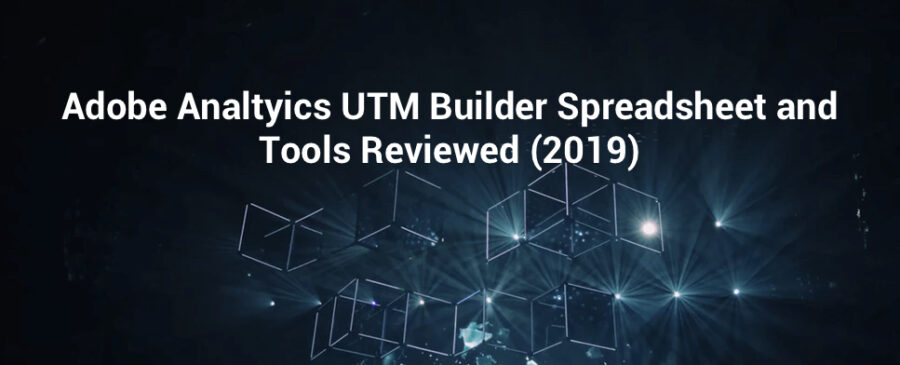 Are you looking for the best Adobe Analytics Campaign URL (UTM) Builder Spreadsheet or tool for your company?
You're in luck! We've used more than 25 of the so-called "best UTM builders" and have applied our Adobe Analytics knowledge to gather the 5 different tools and spreadsheets into one comprehensive list.
---
Top Adobe Analytics Campaign URL Builder Tools
Check out the tools' top features, pricing, and insider knowledge about them and see if any of these solutions fit your business needs.
Top Features
No need to worry about setting up Adobe Analytics configurations to read your UTMS
Any marketer will tell you that understanding, setting, and following classifications configurations just so you can read your Campaign URLs in Adobe Analytics can be a pain. The UTM Smart Manager's team takes care of the necessary set up and configurations for you as part of their service offering (for a flat fee) or they can provide detailed instructions on how to do this if you don't wish to pay the install fee. If you already have a system in place, they will adapt their UTM form to fit your own rules as well.
You get a branded Campaign URL builder with defined naming conventions for all of your marketing channels.
Apart from getting your own Adobe Campaign UTM builder URL with your company logo and company specifications, marketers define their own naming conventions for various marketing channels (for example, you might use "eVars" for subproduct categories, date, etc. These can all be set up within your own Adobe Analytics Campaign URL builder. Your Data Consultant will even help you set Regex rules so that they're tracked in Adobe Analytics. This will guarantee that enforced naming conventions remain consistent.
You get true real-time Marketing Insights (comparable to expensive BI tools), not vanity metrics like 'clicks' or 'impressions'
This is an area where the UTM Smart Manager really outshines the competition. They allow for platform-specific insights to be combined with your web engagement data so that you can understand the customer journey from link to "conversion". This means that if you're looking at a Facebook link, you will see the Facebook engagement KPIs (ie. relevant score, frequency rate, likes, shares, comments, etc) and then your customer engagement through Adobe Analytics (time on page, bounce rate, conversions, etc). There is no other UTM Management platform that can do this.
What's interesting about this Adobe Analytics URL Builder?
UTM Smart Manager's approach to UTM management is fairly unique as their focus on providing advanced analytics functionality and custom benchmark-level alerts prove to be a key value add that no other UTM form can replicate. In fact, it's probably easier to classify the UTM Smart Manager as a Big Data Analytics solution first with a customizable UTM Analytics form.
The platform goes above and beyond with their customization ability. With this level of detail, it's no surprise Fortune 100 companies are flocking to this tool for enterprise-level deployments
A big plus for this tool is that it scales with your team so if you need to go beyond UTM analytics and into department-wide marketing solutions, you can simply upgrade your membership for ROI-level insights similar to those available in Tableau or Domo.
How much does it cost?
Starting at $50/month for up to 20 users and 4 data connections (Facebook, Instagram, Adwords, and GA), it works out to $2.50 per user.
---
Top Features
You can adjust your UTM parameters to match Adobe Syntax
This Campaign URL builder can be adjusted (much like Terminus) so that your UTM syntax matches your Adobe Analytics parameters.
You can create tagged URLs via buttons
Rather than typing or selecting UTM Parameters, you can create buttons to build a UTM link through clicks (thus decreasing the possibility for error). They made this really easy.
What's interesting about this Adobe Analytics URL Builder?
Since UTM Tag syntax can be modified as you wish, technically you can use this UTM builder whether you're using Adobe Analytics, Google Analytics, or even Piwik. The problem again is in their analytics. This should be considered a URL builder only with little to no campaign data to help marketers.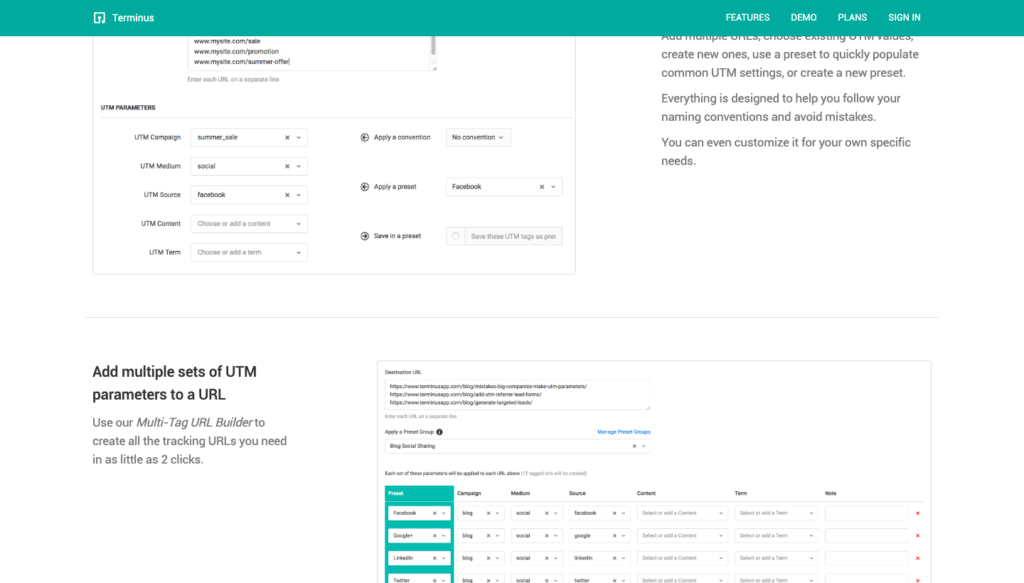 Terminus is a UTM form builder that can be configured enough to build Adobe Analytics Campaign URLs. They give business and Enterprise customers the ability to export Adobe Classifications so technically this means that they are compatible with Adobe Analytics (provided you've configured your Adobe Analytics instance to read the URLs correctly).
Top Features
You can define naming conventions and structure for your Campaign URL
Like an advanced form builder, Terminus users can define naming conventions as they want and dynamically configure their campaign URL builder to spit out an Adobe Analytics campaign URL. Naming conventions can be enforced and will lead to more consistency.
What's interesting about this Adobe Analytics URL Builder?
Terminus gives you the ability to export your classifications. This is as Adobe as they get but it's still more support than tools like CampaignTrackly. Their analytics, however, leave a lot to be desired for and at nearly $200 per month for 5 users; it should at least add Adobe Analytics integration within their analytics platform.
4. CampaignTrackly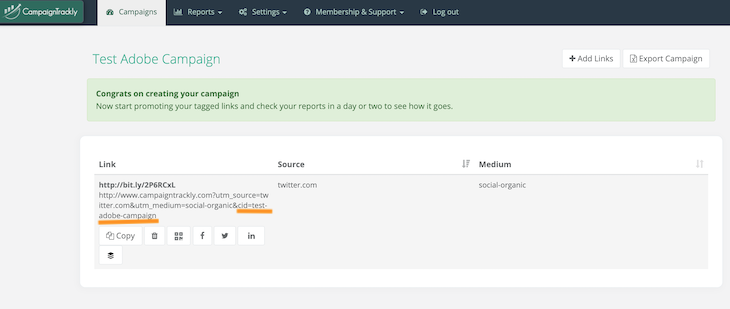 It's difficult to know if CampaignTrackly still supports the creation and maintenance of Adobe Campaign URLs. We spent hours looking through their site and there was no information other than the image above and a blog article linking you to another blog article on how to implement UTM campaign parameters. As a result, we can no longer provide a good review of it.
---
Adobe Analytics URL Builder Spreadsheets
Believe it or not, there aren't many Analytics URL builder spreadsheets for Adobe Analytics to help you generate Adobe CID tracking links in minutes. The reason is probably due to the ability Adobe gives you in adding as many parameters as you'd like to your Adobe Analytics campaign URL. If you're not familiar with this process, take a look at the Complete Guide to Set Up Adobe Analytics UTM parameters which provides a more in-depth explanation. In short, using a spreadsheet also requires you to manually maintain your classifications in a clean way.
Here's a list of the only Adobe Analytics Campaign URL Builder Spreadsheet that we know (feel free to make a copy). If we find more, we will add them accordingly!

---
Final Thoughts
Unlike the hundreds of Google URL campaign builders, it's a bit challenging for marketers to find a true Adobe Analytics Campaign URL builder. From the list provided, you will notice that only one of them: The Adobe UTM Builder and Tracker by UTM Smart Manager was the only Adobe-specific solution whereas the others could be modified to fit some part of a Campaign URL builder/tracker.
As always, now it's your turn. We'd love to hear if you have an Adobe Analytics Campaign URL builder that you like or have used.